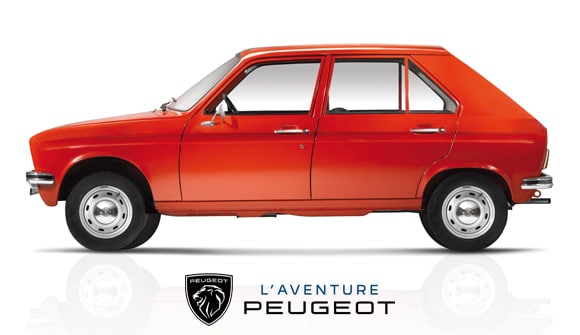 Event
From July 1st to December 31st, 2022
PEUGEOT 104: the great story of a small car
We all have memories of the PEUGEOT 104. This lively, high-performance little car has won over a large clientele. Its story began 50 years ago but the 104 continues to provide great emotions today! Its modern look and its agility have contributed and continue to contribute to its success.
L'Aventure Peugeot retraces this beautiful epic through an exhibition from July 1st to December 31, 2022


"The shortest 4-door car in Europe"
This is how the PEUGEOT 104 was presented to European dealers on October 4, 1972 at the Palais de Chaillot in Paris, then the next day to the general public as part of the 59th Paris Motor Show which was held from October 5 to 15 Porte de Versailles.
"In 3.58 m, Peugeot has been able to design a spacious, comfortable 4-door car that is easy to park. With a very elegant line, it is a safe car that will amaze you with the flexibility and brilliance of its engine in town and on the road. »
Fitted with a 954 cc engine (Française de Mécanique), the PEUGEOT 104 is assembled in the brand new factory in Mulhouse.
This new model, which widens and diversifies the Peugeot range which has become – "104 – 204 – 304 – 404 – 504", has its own personality. Spacious and comfortable, despite its small size, fast and responsive, it has a road outfit and not a car designed only for the city.
Its small size and manoeuvrability allow it to hold its own in the densest traffic. In addition, comfort due to real space for four people, underlined by a flexible suspension and silent mechanics, safety obtained thanks to excellent road holding, confirmed by enduring and progressive braking make this Saloon a real Peugeot, which means a road car.
In Coupé ZS version, the PEUGEOT 104 will delight many motorsport enthusiasts, their performance working wonders in rallies. In 1979, Timo Makinen won the Crampon d'Or at Serre-Chevalier near Briançon in the Alps, an event taking place on snow and ice.
1,624,992 copies were produced between 1972 and 1988, mainly in Mulhouse but also in Aulnay-sous-Bois (119,745), Poissy (53,178) and Mechelen in Belgium (11,712) as well as in the Chausson workshops (213,059 ).
To celebrate these 50 years of emotions for the PEUGEOT 104, an exhibition will be dedicated to it at the L'Aventure Peugeot Museum, from July 1st to December 31, 2022, with numerous photo and video archives and the presentation of six models, including three exceptional prototypes:
– 104 Sedan from 1972
– 104 Coupé ZS Rallye from 1976
– 104 ZS Rally from 1979
– Prototype 104 three-box saloon from 1975
– Prototype 104 station wagon from 1975
– Prototype 104 Peugette from 1976
To celebrate the anniversary, we were very happy to welcome the Club 104 Peugeot* for a large gathering on Saturday September 10th in Sochaux.
You are the owner of a PEUGEOT 104, come and join us at the Museum between 3 p.m. and 6 p.m. on Saturday September 10. Cousins cars, Talbot Samba and Citroën LN/LNA, will also be welcome!
* Created in 1996, the club, initially reserved only for 104 ZS2 coupés, then ZS in 1998, opened up to all 104 Peugeot models in or near their original state in September 2001. Since then, it has the name of: "CLUB 104 PEUGEOT". Since the 2019 general assembly, club 104 has welcomed Talbot Samba, Citroën LN and LNA. More information about this Club -> https://www.club104peugeot.fr/