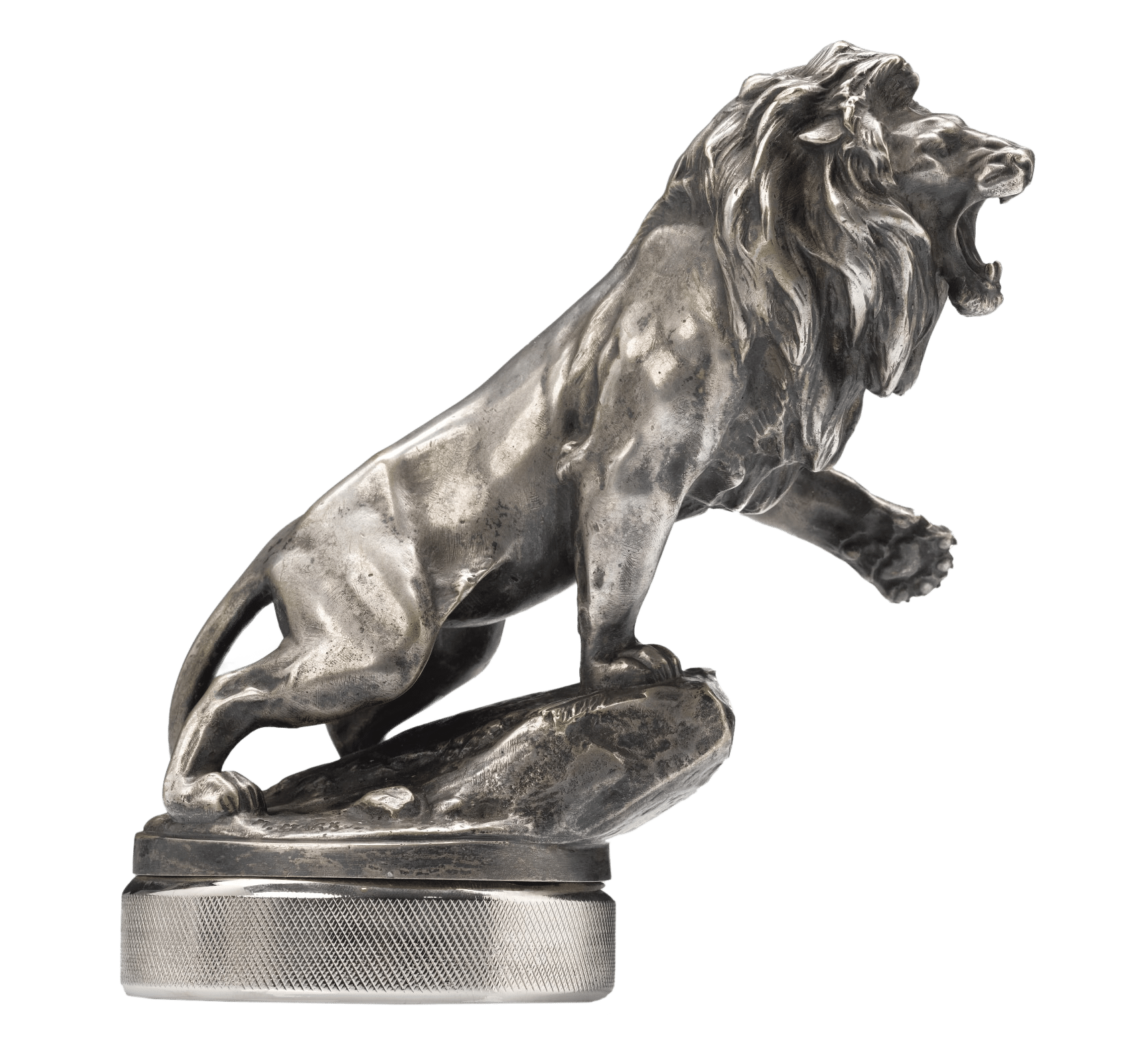 The Peugeot Story
From the beginnings of an industrial saga in the Montbéliard region, to one of the most beautiful industrial businesses in France, the story of a family, of men and women, who will shape a territory, the image of a brand, with a roaring lion, which will conquer the world.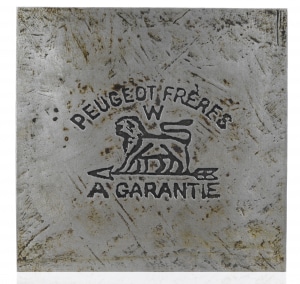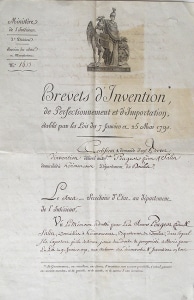 The saw blade and the tool, birth of a Lion
In 1819, Fritz Peugeot developed a new cold rolling process which consisted of tempering the steel before flattening it under pressure.
That same year, he won the gold medal from the Society for the Encouragement of National Industry for "the beauty of the saw, its superior quality and its low price". He also obtained a 15-year patent for this laminated saw. (Photo 06-1 – Patent on laminated saws)
In 1839, Jules Peugeot, son of Jean-Pierre Peugeot, developed a laminating process that made it possible to thin the back of the saw. Thanks to this invention, cutting became faster. Peugeot saws conquered the world.
On the strength of this success, Emile Peugeot began to think about giving the brand an image in 1847. The brothers chose the lion as their emblem; it was designed by Jules Blazer, a goldsmith in Montbéliard.
The choice of the lion, although it evokes the coat of arms of Franche-Comté, is above all a reference to the qualities of their saw blade: speed, suppleness and bite. The arrow connotes the saw's speed of cutting.
The design of the "Lion on an arrow", engraved on the saws since 1850, was registered at the Conservatoire national des arts et métiers in 1858. It symbolises the brand and the success of the metallurgical industry.
Timeline
1810

FOUNDATIONS OF PEUGEOT COMPANIES

In 1805, Jean-Pierre and Jean Frédéric Peugeot, the eldest sons of Jean-Pierre Peugeot, transformed Sous-Cratet into a steelworks, relying on the hydraulic power of this former grain mill. In 1810, they created the company Peugeot Frères aînés, becoming founders and then steelmakers …

1840

FIRST COFFEE GRINDER

From tools to household arts, there is only one step that Peugeot takes. Large cutlery came out of the workshop and found its place in the kitchen. Then the Marque launched into the production of irons. Finally, to meet the ever-increasing demand, Peugeot developed its coffee grinder: to cut the beans into a homogeneous grind, without heating them up, so as not to alter the taste of the coffee…

1886

FIRST CYCLE

On 6 June 1885, Armand Peugeot proposed to start manufacturing velocipedes in three formats. The large two-seater allowed him to offer a low price, the bicycle was equipped with two or three gears, and the single or two-seater tricycle completed the range. As usual, Peugeot is aiming for nothing less than excellence for the launch of this new production. To achieve the highest level of quality, Ernest Rigoulot, considered to be one of the company's best technicians, was called upon…

1889

FIRST CAR

The resounding success of the cycle is not an end in itself, but rather an invitation to go further. At a time when progress in motorisation is clear, the idea of installing an engine on a cycle is self-evident…

1898

FIRST CAR FACTORY

As soon as the engine patent was registered in January 1896, Armand Peugeot took the opportunity to set up the "Société Anonyme des Automobiles Peugeot". He developed the automobile on his own, leaving Eugène Peugeot with the already successful products, including the manufacture of cycles. Armand had a grand vision and launched the construction of the car factory in Audincourt; it would go down in history as the first factory in the world built by and for the automobile…

1912

CREATION OF THE SOCHAUX FACTORY

The growing automobile business required more and more space and infrastructure. Robert joined forces with Louis Peugeot, who owned a fine foundry on the plains of the Allan, near Montbéliard. The Sochaux factory was built in 1912, and soon trucks were being manufactured there…

1929

201 TRANSITION TO MASS PRODUCTION

Well-prepared, it is with a confident step that Peugeot is moving into mass production.
The 201 is a car that has left its mark on automotive history in more ways than one…

1948

THE MIRACLE OF THE SOCHALIENNE RENAISSANCE

Well versed in the exercise of adaptability to external hazards, betting on the advance of the Allies and the end of the war, Peugeot began, in 1944, to study a new vehicle…

1960

HITTING THE RUNWAYS OF AFRICA - THE INTERNATIONALISATION OF THE BRAND

Since its beginnings, motor racing has been a formidable vector of communication for promoting a brand.
The great African raids were born in 1953. This real test, which challenged both the endurance of the drivers and the strength of the vehicles, became the benchmark motor sport event.
The Marque's African importers registered a 403 and then took advantage of the release of the 404 to refine their vehicle preparation strategy. The injection engine provided the touch of power that had been missing until then. The success of the 404 was evident as early as 1961, the first of a long list of victories…

1973

THE FIRST OIL SHOCK - PEUGEOT SAVES CITROËN

At the end of 1973, the world was about to change. With the surge in oil prices, which rose by almost 400% in two months, a crisis began that put an end to the thirty glorious years. The economy is like that, made up of cycles… Nevertheless, the Société Anonyme des Automobiles Peugeot has all the cards in its hand to get through this crisis, which is causing the biggest companies in Europe to falter…

1983

A manufacturer shows its claws

The evolution of the company, and the crisis linked to the second oil crisis in 1979, forces Peugeot to refocus on its automobile division, which has grown considerably and which has meanwhile become a group: PSA.

In 1983, Peugeot launched the 205…