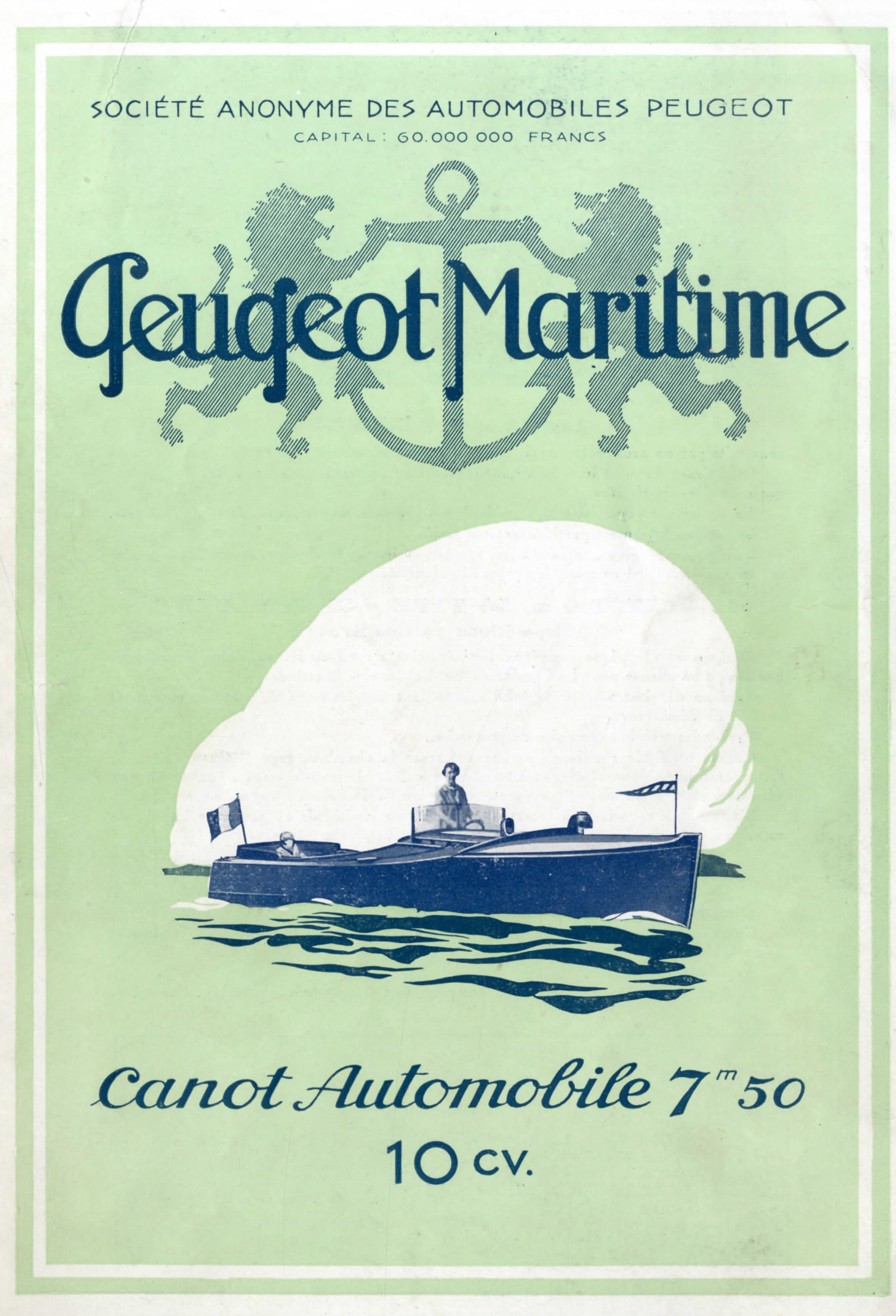 Article
Released on 28.09.2023
Peugeot and boats
Did you know ? there are Peugeot canoes. Henri Auger, volunteer at L'Aventure Peugeot, makes us sail and tells us about this beautiful maritime adventure!
During the Paris Universal Exhibition of 1889, Armand Peugeot (who presented his steam tricycle there, produced in collaboration with Léon Serpollet) saw two canoes, the "Violette" and the "Passe-partout", evolve on the Seine, equipped with 'a V-twin engine running on petroleum gasoline and designed by German engineer Gottlieb Daimler. It is this engine, adapted to land transport and manufactured in France under license by Ets Panhard & Levassor, that Armand will retain from 1890 to equip his first self-propelled ῍cars῍ (which our Academicians will call ῍automobiles῍ at the beginning of 1896). Did he think at the time that one day he would also motorize boats?
In 1883, Armand Peugeot fell in love with a little corner of Brittany, Morgat, where he created a seaside resort. Since then, the Franche-Comté industrialist has had the idea of ​​motorizing his fishing boats there.
On November 26, 1904, he joined forces with Tony Hubert, a small engine and automobile manufacturer, and founded the company "Armand Peugeot – Tony Huber et Cie" (rue du Vieux Pont de Sèvres in Billancourt). Its main objective is the construction of boat engines.
The first fishing boat to be equipped with a motor (but which also had sails) was baptized ῍Le Comtois῍! It is carried out at the port of Morgat shipyard. Armand Peugeot had another naval experience there, armed with a tuna boat (῍l'A-raok῍) which unfortunately sank after only two trips to sea.
Like other car manufacturers of the time, the Société Anonyme des Automobiles Peugeot offered shipyards engines derived from those of its cars and intended for "car boats".
Races are organized in popular resorts, such as Monaco. The Peugeot III canoe won the 6.50 to 8 m cruiser Cup there in 1904.
In 1907, Peugeot exhibited in Paris, powertrains for maritime use; next to an 8 ch. single-cylinder are presented 4 cylinders in 3 versions from 10 to 16 hp.
Also on display are: a 15-passenger maritime launch that won 1st prize in the Rouen Cup competition in 1906, a large 50 hp engine. mounted on the star "Breiz-Izel" ("lower Brittany", allusion to Morgat) built by the Coninck de Maisons-Laffitte shipyard and a 3 T boat equipped with a 24 hp. propelling it at a speed of 7 knots.
We do not know the volumes represented by these productions, which are quite marginal compared to that of automobiles. This marine activity was interrupted during the First World War and was not relaunched until 1921.
At the beginning of 1925, on the initiative of Lucien Rosengart (1881-1976), then Managing Director of the "Société Anonyme des Automobiles & Cycles Peugeot", the "Société Peugeot Maritime" was created in Paris, with the aim of "the production of marine engines, dinghies, and rowing or mechanically propelled pleasure boats". Lucien Rosengart has great ambitions and dreams of exploiting the 15,000 km of inland waterways in France, to create "a new mode of circulation thanks to "Automobiles which go on the water – all in peace, without chaos, without trepidation or dust in the eye"! A workshop dedicated to these products is set up in Levallois. At the beginning of 1926, five engines were delivered and two 7.50 m canoes, equipped with the 10 hp engine derived from that of the Type 177, reached 12 knots (22 km/h) on the Seine during their first tests, considered to be very encouraging. In June 1926, the study was launched for a larger unit (7 m) powered by two 75 hp engines (Type 174 valveless engine). This ship is intended for navigation with 250 to 300 passengers on Lake Bourget (Savoie).
Louis Rosengart produces, under his own brand, low-power outboard motors, derived from his auxiliary bicycle engine, then, under the Peugeot brand, three models from 2.5 to 5 hp, which depending on their load can drive a boat of 5-6 meters from 10 to 14 km/h (an example of the 2.5 ch. is visible at the Museum).
In 1926, a canoe hull (with all its equipment and fittings) was mounted on the chassis of a Peugeot Type 177 M car. It toured France during an advertising caravan presenting the Brand's automobiles and contributed then regularly promoting "Peugeot Maritime".
To promote its products, ῍Peugeot Maritime῍ has produced magnificent posters suggesting the elegance and distinction of river tourism, or the speed of sports cruising at sea. Maps and navigation guides are distributed by the company, which also offers driving boats lessons in Paris.
In October 1926, Lucien Rosengart created the first "Boat Show". "Peugeot Maritime" presents two versions of "luxury" canoes of 5.50 and 7.50 m. Their varnished hulls assembled in double plating (marine term designating the outer envelope of a ship) of mahogany or okoumé, rival the prestigious American, English or Italian runabouts. The engines are directly borrowed from automobiles. The price for the standard version of the 5.50 m canoe is 12,500 francs; in comparison, that of a Peugeot 5 CV car (equipped with the same engine) amounts to 21,980 francs.
At the 1927 Boat Show, the Peugeot stand was one of the most important. In addition to the canoes already mentioned, are exhibited there: an 8.50 m sailboat "l'ilot bleu", a small cruiser called "week-end", a "vélonautique" (ancestor of the pedal boat, born of the fertile imagination de Rosengart), a Canadian canoe and rowing boats (stamped Peugeot but probably subcontracted). For various reasons, the ambitions of Lucien Rosengart are controversial within the family firm. He was therefore asked to leave the Society in January 1928.
At the 1928 show, "Peugeot Maritime" praised "the tripling of its turnover in 1 year, its boats in service in 14 nations and their presence in customs, arsenals and in the Navy, available with 25/40 hp petrol engines or 30/45 hp "heavy oil" engines (made under Junkers license by Compagnie Lilloise des Moteurs, a Peugeot subsidiary founded in 1928. In particular, it produces large-displacement diesel engines to equip trucks (of different brands), public works or agricultural machinery, locomotives or… boats.
The nautical activity of Peugeot ceased in 1930, the investments of the company being then devoted in priority to the project of "Grand Sochaux" and to overcome the financial crisis of the time. This "necessary" sacrifice will thus contribute to the success of the all-new Peugeot "201". However, the firm continued its sales of "marine" engines, and in the 1950s, a few canoes, born of private initiatives, received a "403" engine. Tourist or fishing boats were also motorized with Peugeot Diesel "Indénor" in the sixties.
-> Dear readers, if you have leads or additional information on this "Marine or river adventure", please contact us at musee@peugeot.com