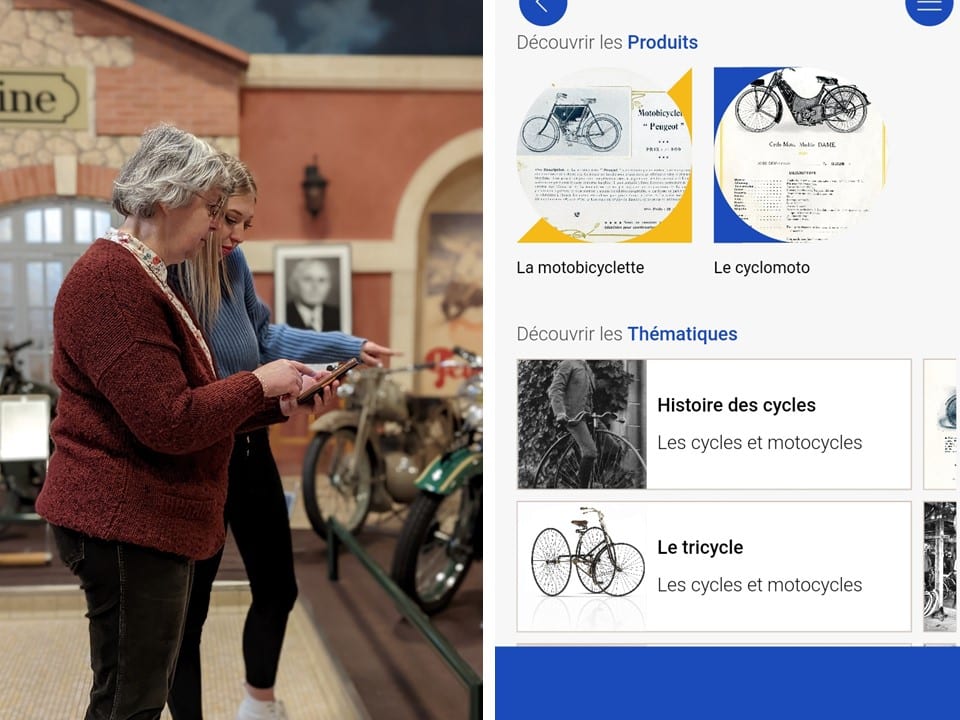 Article
Released on 09.03.2023
New digital visit partner at L'Aventure Peugeot Museum!
A UNIQUE TOUR EXPERIENCE TO LIVE L'AVENTURE PEUGEOT EVEN MORE INTENSELY!
In 2023, L'Aventure Peugeot Museum is enriching its "visitor experience" by offering a digital visit partner.
On smartphone or tablet, everyone can now learn more about the objects and vehicles they discover as they progress through the Museum.
Photos, videos, documents… many archives and animations allow you to immerse yourself into the history of the Brand, to get to know the men and women who made it or even to appreciate some little-known anecdotes.
Whether you are simply curious or a fan of technical information, this visit partner adapts to your wishes for knowledge of the Peugeot universe and to your expectations of a visit to the heart of the collections of L'Aventure Peugeot Museum.
More than 500 texts and 1,000 archive images and animations, more than 500 minutes of listening and viewing in total!
The + of this digital visit partner
Included in the price of admission to the Museum!
Ease of use: the technical solution chosen does not require any data loading, internet connection or prior downloading from a "store", so that use is as simple as possible for the visitor
Compatibility: access to the visit application is instantly compatible with all smartphones and tablets.
Respect for privacy: the visitor connects his/her smartphone or tablet to the local Wifi network which does not provide access to the Web, and does not collect or save any user data.
Multilingual courses (available in French, English, German and Dutch) and adapted to people with disabilities.
The GEED solution, developed by the company LIVDEO from Besançon (Doubs), offers visitors the comfort of a private guide on their mobile phone or tablet thanks to a simple wifi connection, without recording data, thus preserving the anonymity of visitors.
This digital tool was developed with the help of the Bourgogne-Franche-Comté Region and the European Regional Development Fund (FEDER)
Amount of the ERDF grant: €33,600
Total amount of the project: 79 348 €