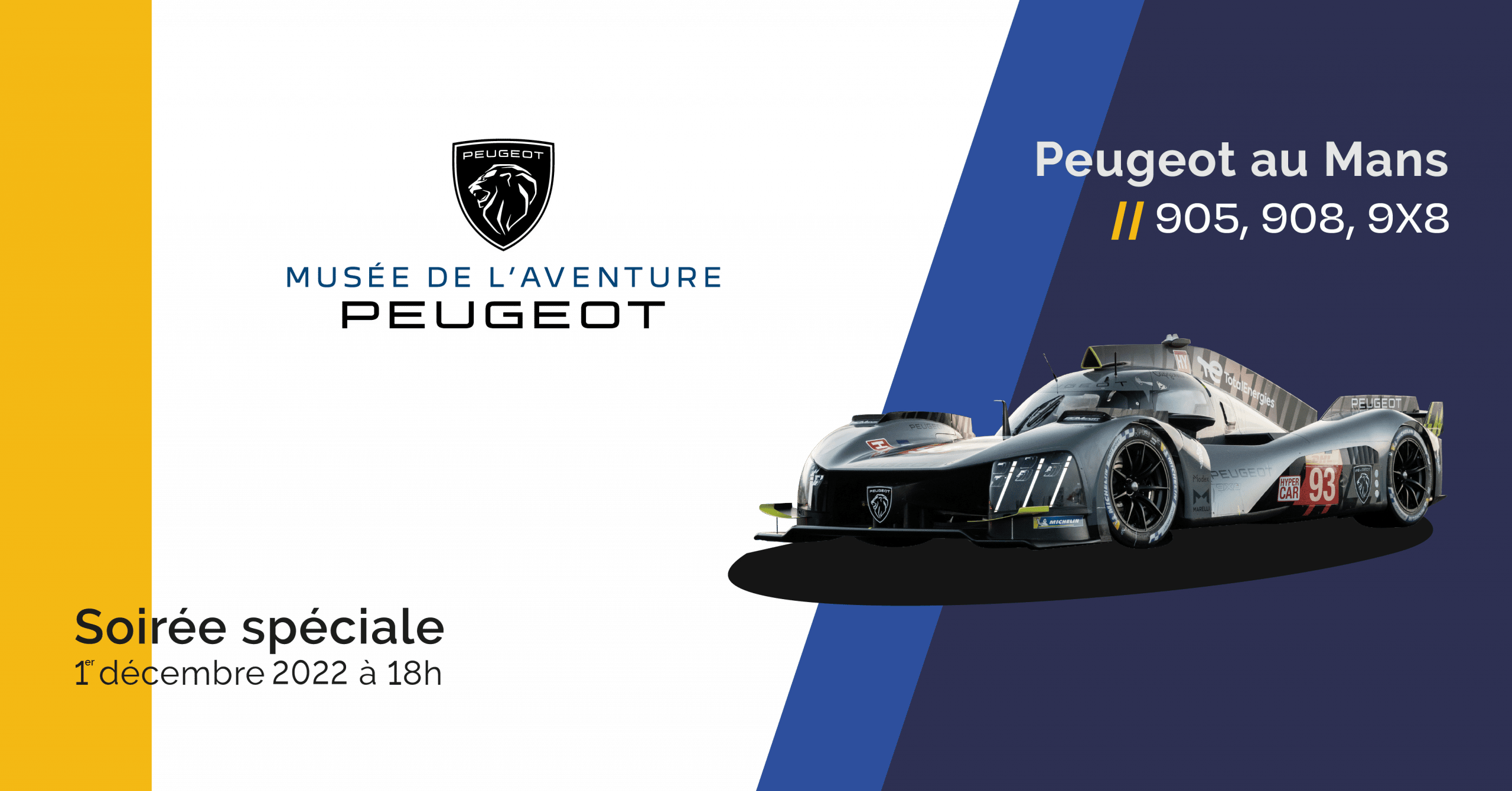 Event
December 1st from 6 to 10 pm
Special "PEUGEOT AU MANS // 905, 908, 9X8" evening
After a quick visit to Sochaux on October 3rd, 2021, the PEUGEOT 9X8 HYBRID HYPERCAR* comes on display for a longer time during winter at L'Aventure Peugeot Museum, from December 2nd, 2022 to the beginning of January 2023. A rare opportunity to see the PEUGEOT 9X8 surrounded by its prestigious elders, the PEUGEOT 905 (winner of the 24 Hours of Le Mans in 1992 and 1993) and the PEUGEOT 908 (winner in 2009) which are on permanent display in the Museum.




Special PEUGEOT AT LE MANS evening
In order to celebrate this arrival as it deserves, the teams are offering you a very special evening at the heart of the L'Aventure Peugeot collections on Thursday December 1st on the theme "PEUGEOT AT THE MANS", during which exceptional guests will please us to share their experiences of the Sarthe circuit during a conference (IN FRENCH ONLY)
Jean-Marc Finot, Senior Vice President Stellantis Motorsport
Loic Duval, driver at Le Mans 2023 on a PEUGEOT 9X8
Eric Hélary, winning driver at Le Mans in 1993 with the PEUGEOT 905
Stéphane Sarrazin, multiple winner of the Le Mans Series with the PEUGEOT 908
To close this evening, a time for discussion around a cocktail dinner will allow you to stroll through the aisles of the Museum and enjoy all the collections.
Full evening program
From 6 p.m.: welcome of participants and free visit of the Museum
7 p.m. to 8:15 p.m.: conference on the theme "PEUGEOT AT LE MANS" (IN FRENCH ONLY)
8:15 p.m. to 9:30 p.m.: cocktail reception and free visit of the Museum
Useful information
Special evening by online reservation only (limited places) -> https://etickets.infomaniak.com/shop/HlLKk8gn2B/event/867306
Prices (including the free visit of the Museum, the conference and the cocktail):
General public (from 12 years old): €37 per person
Children up to 11 years old: €19 per person
Stellantis staff member: €29 per person
Member of the L'Aventure Peugeot Citroën DS association: €29 per person
* PEUGEOT 9X8 HYBRID HYPERCAR has been competing since July in the Le Mans Hypercar category of the World Endurance Championship (WEC) with its sights set on the 100th edition of the 24 Hours of Le Mans next June. With its unprecedented fluidity, its feline look and its hybrid engine (707 hp twin-turbo V6 at the rear and 272 hp electric motor at the front), the PEUGEOT 9X8 is an electrification laboratory for PEUGEOT road models.
Book now your exceptional evening at the Musée de L'Aventure Peugeot!
Lieu
Musée de L'Aventure Peugeot
Carrefour de l'Europe
25600 SOCHAUX
Opening hours
December 1st from 6 to 10 pm