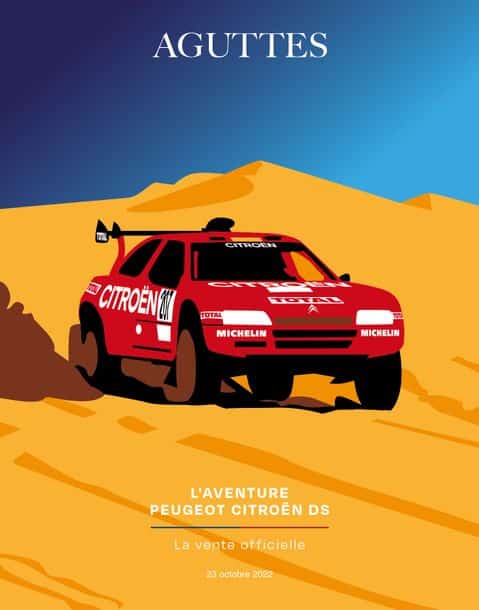 Event
Sunday, October 23rd 2022
L'Aventure Peugeot Citroën DS / Aguttes Auction
L'Aventure Peugeot Citroën DS association renews its trust this year in "Aguttes on wheels" auction house to offer a new sale. Bringing together automobilia and collector cars from the Peugeot and Citroën brands, from its collections but also from private owners, the auction will take place on Sunday October 23rd, 2022 in Sochaux (Doubs) at L'Aventure Peugeot Museum.




Eagerly awaited by collectors and enthusiasts, the auction catalog offers posters, accessories and 100 vehicles from the Peugeot and Citroën brands.
As with previous sales, some of the vehicles on offer come from the collections of L'Aventure Peugeot Citroën DS association.
Hervé Charpentier, the director of the association's collections gives some explanation : "The vehicles we offer for sale are either duplicates or vehicles that are not of immense historical interest and/or which have sometimes been awaiting restoration for too long. We are happy to know that these models can be preserved and restored by other enthusiasts. Why let them sleep in our reserves when they could live again in the hands of collectors with whom we share this same love of heritage! In addition, the proceeds from these sales will allow us to acquire new cars, and therefore to enrich our collections, with rarer models. »
Among these vehicles, some have already been unveiled this summer. For example, it will be possible to become the owner of the armoured (ou bulletproof) Peugeot 605 from the movie "Taxi 2" or a Citroën Sport ZX Rallye-raid.
USEFUL INFORMATION
Online catalog -> CLICK HERE
Public exhibition at L'Aventure Peugeot Museum and in the courtyard of the Museum workshop (25600 SOCHAUX)
Friday October 21: 2 p.m. – 7 p.m.
Saturday October 22: 10 a.m. – 7 p.m.
Sunday October 23: 9 a.m. – 12 p.m.
Auction on Sunday October 23 at L'Aventure Peugeot Museum
11 a.m.: Automobilia
3 p.m.: Classic cars (100).
RESULTS -> https://www.aguttes.com/catalogue/128530?
It is often thanks to auctions that one becomes a collector. This is indeed the opportunity to acquire your first collector's car!