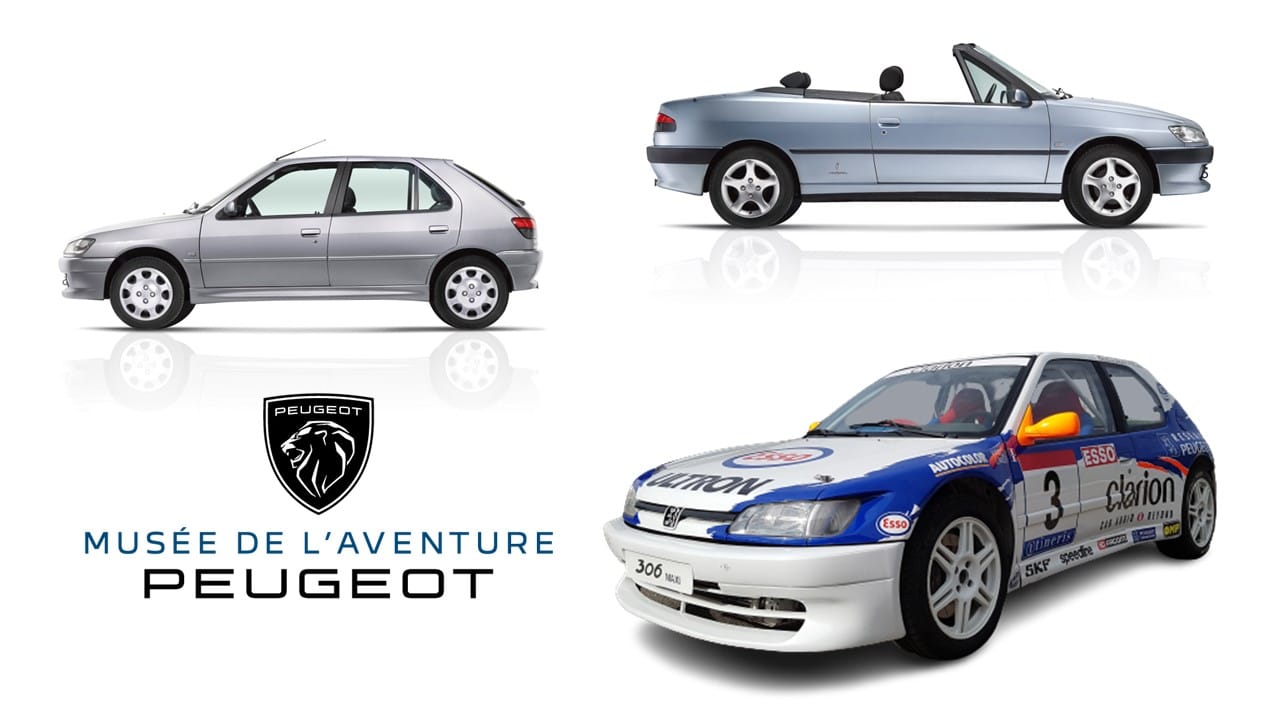 Event
From September 30th, 2023 to January 7th, 2024
306 exhibition at L'Aventure Peugeot Museum
After having celebrated the 40th anniversary of the 205, L'Aventure Peugeot Museum will celebrate the 30th anniversary of the PEUGEOT 306.
An exhibition is dedicated to it from September 30th, 2023 to January 7th, 2024!



EXHIBITION PEUGEOT 306
For the 30th anniversary of this legendary model, L'Aventure Peugeot Museum is presenting 9 models, including a unique concept car and the very sporty 306 Maxi! Video archive images (historical and advertising) complete this retrospective.
Presentation of some emblematic versions of the 306
306 S16 – 1998 Gendarmerie 
Based on an S16 phase II, the 306 offers a new asset to the Gendarmerie. With a power of 167 hp, equipped with a 6-speed gearbox, this muscular and agile lioness, thanks to a particularly well-designed chassis, coupled with good ground connections, effectively supports the police. Reliable, it often exceeds 250,000 km on the odometer. To join the ranks of the prestigious BRI, the 306 went to the bodybuilders Gruau or Durisotti to be equipped with markings, a fixed or removable rotating beacon, a communication radio and a second interior rear-view mirror. The copy exhibited at the Museum is a donation from the Doubs Gendarmerie.
306 Cabriolet from 2001
The 306 convertible is a convertible in its own right. It has been the subject of a very in-depth style study to make its aesthetic a safe bet, with and without a hood. Opened up, its fluid lines flow from the front and end on the trunk in a characterful fold. A bi-material soft top cover, painted sheet metal and leather graining, perfectly shelters the soft top and retains all the fluidity of a grand design. Hooded, the convertible becomes compact to express the personality of a real sedan, with all the road and technical qualities of the 306.
306 Maxi (1995-1998)
Peugeot presents the model of the 306 Maxi on its stand at the Paris Motor Show. The decision to technically develop this new Kit-Car version of the 306 SI 6 GrA is perfectly justified. After a test season in 1995, in the new Kit-car category of less than 2 liters of displacement, the 306 maxi were entrusted to drivers Gilles Panizzi, François Delecour and François Chatriot. Consecration came in 1996 and 1997, with Gilles Panizzi who won the title of Champion of France. In 1997, the little "2 liter – 2 wheel drive" car performed more than well in the WRC (World Rally Cars) championship, the premier category of rally cars. François Delecour finished 2nd at the 1998 Tour de Corse, thus providing a great end to the career of the 306 Maxi! From a technical point of view, the 306 Maxi is equipped with a 4-cylinder front transverse engine, 4 valves per cylinder, double overhead camshaft and a 7-speed gearbox. Max speed 220 km/h. Power 290 HP.
Concept 306 – 1999 Weekend Break 
This 306 Break de Chasse style study serves as a showcase for the new direct injection Diesel engine which is offered that same year on the 306 sedans and station wagons. The 306 HDi, a 3-door station wagon, has the "virtual" vocation of taking people to on board up to 4 passengers in a spacious and luxurious environment. This weekend break, which also attests to the vitality of a range still very present in the automotive landscape, offers distinctive features, both exterior and interior.
L'AVENTURE 306
Marking in its own way the birth of the single European market, Automobiles Peugeot presents its new proposition in the M1 segment (which represented 30% of European registrations in 1992): the Peugeot 306. It will be marketed in France from February 18th, 1993, and in other European countries in less than three months.
With its design made of taut and pure lines, with its warm and comfortable interior, dynamically endowed with qualities rarely achieved in this market niche, the Peugeot 306 combines driving and pleasure in total safety, both active and passive. With these assets, the Peugeot 306 aims to become the new benchmark in the European M1 segment.
More than a new number in the range, it is also the start of an unrestrained variation. Indeed, the Peugeot 306 is called upon to satisfy, through the richness of its subsequent developments, including in terms of bodywork, the expectations of a very diversified clientele. For this new model, Automobiles Peugeot invested 5.6 billion francs, including 1.8 billion in study costs and 800 million in specific investments in the Peugeot centers in Ryton (Great Britain) and Villaverde (Spain), which, with Poissy (France), constitute its three production centers. It begins its commercial career in 5-door petrol versions, in three finishing levels, powered by a choice of three engines varying from 1360 cm3 (75 hp) to 1762 cm3 (103 hp).
The international vocation of this sedan will be reflected, on an industrial level, by its rapid production in Ryton (Great Britain) and Villaverde (Spain).
With a length of 4 m and a width of 1.69 m, the Peugeot 306 asserts, through its modern line deliberately sculpted with reassuring curves, a balance between sleek strength and compact elegance.
Sure of its power of seduction, the 306 lets us glimpse, through a generous glazed surface (a little over 3m2), that its interior performance is in perfect complementarity with the promise expressed by its exterior style, resolutely modern and original .
Discover the rest of its story at L'Aventure Peugeot Museum.